YMCA ACT
【YMCA ACT】Jack's Interview「English basic skill is quick response」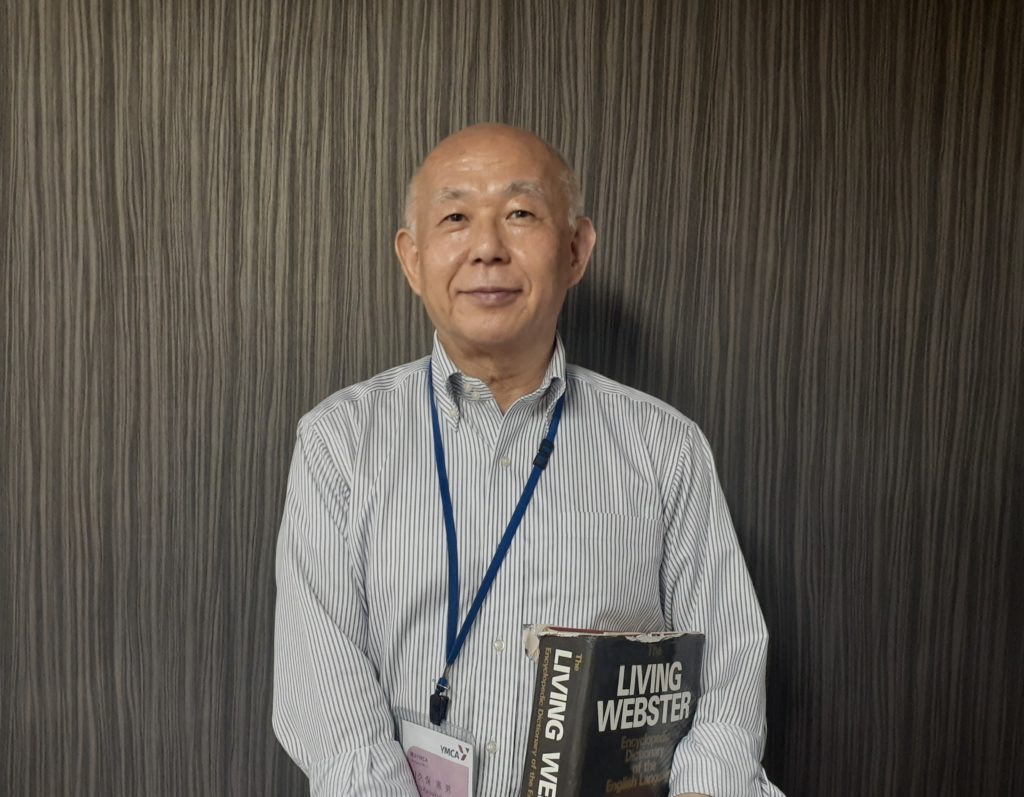 Why did you become an English teacher?
When I was in high school, most students who liked English went on to the department of Foreign Languages or Literature, instead of Law or Economics. I chose the department of English Literature.
It was hard to find jobs because of the 1973 oil shock, and after a thought of working in the mass communication or music industry, I decided to become an English teacher because I was good at English.
What led you to YMCA?
I went to the States when I was 29 years old. I was planning to enter a graduate school there. I had confidence in English, as I passed the EIKEN first grade in Japan.
However, I was shocked because I couldn't make myself understood in English.
I was living in a dormitory, most of the students were younger than me, but I couldn't get along with them because I felt humiliated.
After a few months, I received a phone call from Japan informing me of my father's illness, advising me to come home, so I returned to Japan.
Then I started to look for a job in Japan and got a job as a teacher at the YMCA university preparatory school. After teaching there for 18 years, I started to work at YMCA ACT as a fixed term employee because YMCA decided to close this preparatory school.
Has your way of teaching changed from the preparatory school days?
Teaching in the preparatory school was mainly about technique such as this answer for this question. The goal was to let them get higher scores at the examination, and I had to teach about 50 students at a time. I noticed after I started to teach adults at ACT that many students need to study the basic elements, and that I need to communicate with each student very carefully. I felt the responsibility of teaching the truth, and that I have to be a role model.
What hasn't changed is my passion for the students, for education.
What do you think is the difference between YMCA and other schools?
At school, we study a lot of things comprehensively, including club and other activities.
Communication is the main element for an English school, and knowledge and skill are important in preparatory schools.
YMCA is an all-around place, different from schools, English schools or preparatory schools.
What do we need in order to communicate with others?
We often hear, "Speak out without worrying about making mistakes." But if you keep on doing this, I think you will miss the opportunity to learn the right expression, your English will not improve, and you will not have the feeling of achievement. You can rely on yourself if you have a sound basis. If a baseball player wants to hit a breaking ball, first he has to practice hitting a basic straight ball.
In sports and music, everybody knows it's important to practice the basic skills thoroughly, but why not in English? Focusing on the basic is the key to satisfactory learning.
How can we learn the basic skills?
Teach accurately, learn accurately. It's important to understand and learn the expression instead of just memorizing one after another. Quick response is important because you can't communicate in English if you don't understand and respond immediately. Grammar is the basic skill you need to achieve quick responding. You have to notice that if you are staying away from studying grammar, you are taking the long way around.
YMCA ACT takes the team-teaching style (native speaking teacher and Japanese teacher) for the children/youth classes. What is the merit of it?
It's easier for the students to keep their concentration, and a Japanese teacher can teach grammar and sentence patterns accurately. We supplement each other in an equal-equal relationship, utilizing the uniqueness and advantage of each of us, and it works for the students, too.
How do you want the students to become?
Of course, I want them to improve their English. It is important to study even when you are an adult. I hope the students will keep on feeling they've achieved something. I myself would like to study more, as there are a lot of things I still don't know. As a teacher, I want to make better grammar questions. Sometimes I spend almost an hour to make one good question.
I want the students to find the right way to study and continue. It is too bad that many students give up studying. Maybe you will think that there might be a better way, but I am proud we are taking the right way. Please continue with confidence.
川久保先生担当クラス
<成人クラス>
・コミュニケーション直結英文法(中級)月1回 月曜14:00~15:40
・コミュニケーション直結英文法(中級)月1回 土曜14:00~15:40
・スピーチ&プレゼンテーション(中上級)月2回 水曜 14:00~15:40
<中高生>
・Advanced-M(英検2級程度〜)月曜18:00~20:00
・Global leader-M(英検2級・準1級程度〜)月曜19:10~21:10
<その他>
プライベートレッスン