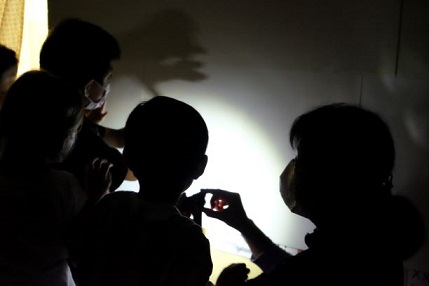 Why "YGK Science Club"?
Science+Inquiry-based Learning+English Immersion = YGK Science Club
What we value:
・Having fun  ・Sense of Wonder
"YGK Science Club" is an English immersion class for 3-6-year-olds that applies active and inquiry-based learning.  
Children develop creativity, thinking and problem-solving skills.  They are given different materials and tools to create something out of their own thinking.  In the process, they encounter challenges on how materials work and it gives them opportunity to think of how to solve them.
Through our fun science explorations, young children have the chance to exercise important science skills such as observing, comparing, measuring, predicting, communicating and reasoning.
The children get to learn English language through immersion.  After several weeks of exploration with materials that they are interested in and caring teachers who converse with them meaningfully, the children start using English words naturally to express their thoughts and needs.  They are acquiring the language by experience and observation. 
Example of Activities 
Oil and Water, Mixing Colors, Water Lens, Tree Exploration, Fall Leaf Stamps, Volcano, Leaf Crown, Soda Dancers, Light and Shadow
Application Information for 2020-2021
・YMCA Membership Fee        1,000 yen (non-taxable)
・Tuition (Monthly)                  24 lessons per year (Class will start from September)
Unit price 3,960 yen×Default number of lessons
・Application (on-line)  ➡ https://forms.gle/RJvRuvafCXvrn68U6
Maximum Number of Students
・15 students   
 3-6 year-olds  (born April 2, 2014 - April 1, 2017)
School Hour
・Saturdays                               9:30-12:00
Other
・English experience is not required.
・All listed prices are including tax.
Sample Schedule of a Day
Theme Sea Life
Good morning!

Let's unpack.

Choice Time




Children think and plan which play areas to choose. They fully engage in their own learning and exploration. 

Let's get inspiration from natural objects.

① Ocean treasure box  --Sand and Shells--

② Sand-colored play dough

④ Stacking rocks

⑤ Painting Station  --Plants, Bugs and Colors--

Let's express ourselves through play.

⑥ Creative station --Recycle crafts--

⑦ Toys and Cars

⑧ Big blocks

⑨ Dress up station

⑪ Relaxing corner  --Tee-pee tent--

Circle time/Large Group Activity

Greeting

Songs and Finger-plays

Let's recall what we did in choice time!  -What did you do? How was it done? What did you like?-

Introduction to the activity of the day

Exploration time

Life-size aquarium

 -Let's measure and compare objects to the real size of sea animals-

Feedback time




Children express their feelings or discoveries freely.

Teachers help them say it in English.

What did you find out?

What did you think of?

Let's share together.




Documentation:

Teachers write down their opinions and ideas on a big sheet of paper.

Story time

Let's enjoy English storybooks.

Good-bye time


See you later!