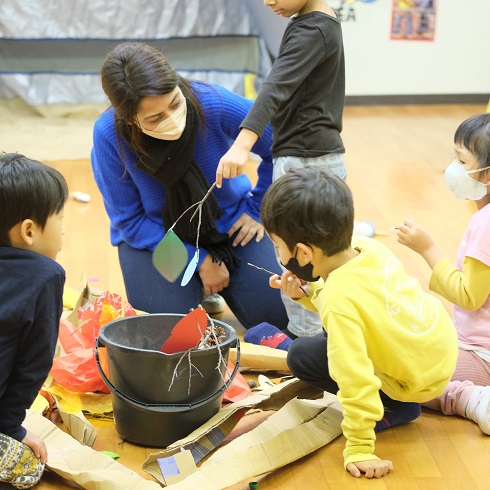 The K3 students of YMCA Global Kindergarten usually visit Mt. Fuji YMCA to have a sleepover in September.
However, due to this prolonged COVID situation, we had to cancel this special occasion. It was definitely a hard decision for all of us.

So, we decided to have a day camp in the classroom instead. This is because the children have been quite into camping after the summer break.
The class started to discuss what they wanted to do for this program. Based on their ideas and requests, we set up tents and a campfire… no worries, of course, we didn't make a real fire in the classroom!!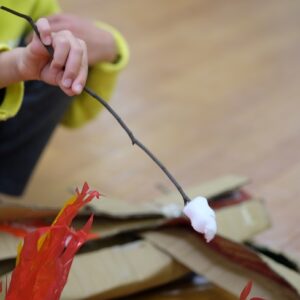 They were busy making fishing rods to get food, decorating their tents, roasting marshmallows and fish on the campfire, etc.
As we were having so much fun, the time literally flew by so quickly. Before we realized it, it was already time for dinner.
We had a very special, miraculous and tasty dinner!! Our lunch vendor, Restaurant Aquila Volans, had a special surprise for us. They arrived with huge boxes in their hands. When they opened the biggest box, we found a huge fish inside! It was so big and heavy! Hmm, but it didn't look like a real fish… What is this? They told us that the fish was made of salt and something was hiding inside!!

WHAAAAT????? We just can't wait to see! Can we crack it open?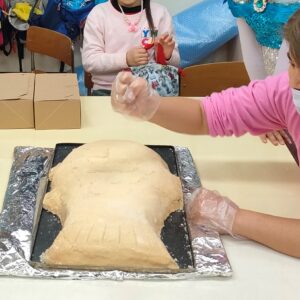 Ms. A started to tap it with her hand. Hmmm… This is sooooo hard. We need to try harder. How about this time!! CRACK! She made it. She made a crack on it. She then started to peel the salt cover from the crack. What was hiding inside were packages of food. They were still warm.

Let's get ready for dinner! Let's sit in a big circle and say a prayer, "Thank you for this special food! Itadakimasu!" The food was so delicious that the children asked for seconds although it was quite a big amount of food!
This definitely marked another unforgettable happy memory at YGK.
We are so thankful for all the support we have received from various people. We know how blessed we are to have such good people around us.
The children are soon graduating from YGK. We always wish that they will grow into someone who not only trusts and loves themselves but also makes others happy, gives a helping hand for someone in need and rejoices with others at all times. And we are quite sure that they are developing in that way, being filled with all the love and support from many people, just like this.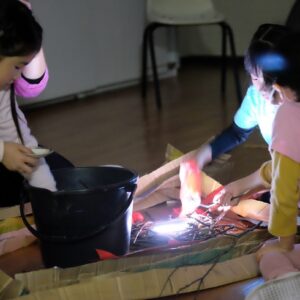 Lastly, let us introduce a message from Aquila Volans. We are totally impressed and blown away by their professional pride. As we have received a baton of caring mind from them, we believe that it is our turn to pass the baton to someone else to pay it forward.
【Special Experience for Children】
The preschool for which we deliver lunches daily are having a day camp for the graduating class and we are asked to cook their "dinner".
They requested something like this, "We would like to pretend camping and have a special meal around a campfire. It would be really nice to have a big plate and serve them by themselves. But, as we still have to have counter-virus measures in place, please prepare bento boxes."
We understand the teachers' feelings.
We can tell the teachers wanted something very special that can be memorable for the children.
We do understand it.

Hmm, this is the time to show our wisdom with our 26-years of experience as restaurant managers.

As they requested fish for the main dish, we chose "White-fleshed fish and mushrooms with cream sauce baked in paper". We made small portions of them and covered and baked them in a salt crust.
You will definitely be amazed!

We usually put meat or fish inside a salt crust.
Not only will it prevent infections but also liven up the party and become a cherished memory.

The total amount of salt for this special meal was 5 kg!!

As one of their neighbors, I thought like this, "It's about time for them to start eating. I hope they are enjoying their meals…"

Just recently, we discussed and shared our beliefs with all the staff of our restaurant.
Our belief is that,
"We do not scrimp on."

As professionals, there are quite a lot of things that we can do.

Some people may make excuses to avoid doing this. But the only thing that we need to go all out is to have "a little bit of extra time".

It's just "a little bit".

When we put "a little bit of extra time and effort", we are blessed with memorable moments in return.
We may miss something precious if we are stingy.

I often talk to the staff members like this, "It may seem that we have no benefits at all or even we have to lose more than we gain. But let's look carefully beyond it. You might see some other aspects."

We could see "Happy and Big Smiles" in return and that's more than enough for us!
Check out our Instagram and Facebook pages for more posts!