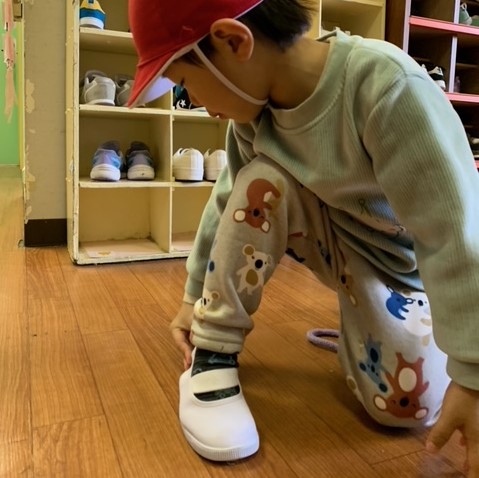 YGK Joey class is our youngest class at YMCA Global Kindergarten.  The Joey children are growing at a tremendous speed every day or even every second.
They went for a walk on a warm sunny day.  After a while, everyone came back with big smiles on their faces.  Some friends are happily singing.  I bet you had a great time at the park.
So, what are we going to do after coming back from the park?
…Yes, you are right!  
We need to change our shoes!!
One child was struggling with his shoes.  Putting his heel in his shoe is the challenging part.  His class teacher sat next to him and calmly encouraged him to take on a challenge.  She believes he can do it.
The child has been working hard for quite a while.  But, finally… he made it!
SMILE!   …Oh, how I wish I could get a photo of this big moment!!!
I know how proud you are of yourself not giving up and doing it.
Seeing each child grow at their own pace day by day, or moment by moment, is purely our joy.  We appreciate all your support and trust. It's such a great thing that we can always share these joyful moments with each other.
Check our Facebook and Instrgram for more pictures and more posts!