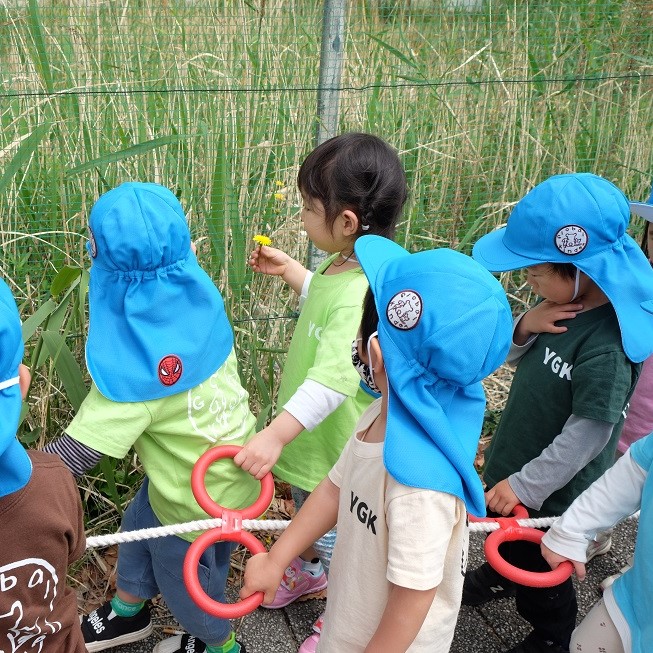 Approximately two weeks have passed since the Puppy friends joined YGK.  They are getting used to their daily routine.
They had their very first walk outside the YMCA.  Although it was a very short walk around the YMCA building, they found treasures and discovered new things along the way.  First, they found yellow dandelion flowers and white fluffs.  They were so amazed at how cute the flowers and fluff are.  After we picked flowers and fluffs, we continued our journey.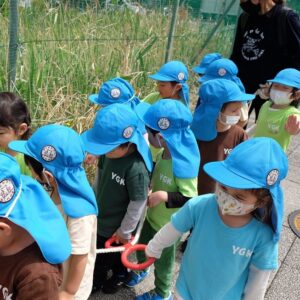 Huh?  We are here but we can see ourselves over there as well!  We found ourselves in the mirror!  Hello!!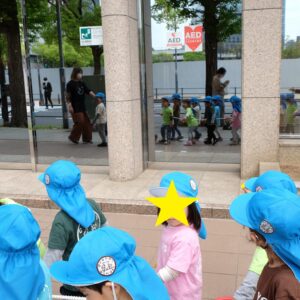 Sniff, sniff…  Something smells yummy!  There was a lunch vendor selling tasty lunch boxes on the roadside.  They started a conversation, "I want to eat one." "Oh, no you can't.  Remember?  YOU have your own lunch in the classroom!"
As we went on, there was a parking lot in a building.  When they said, "Wah!", their voices echoed, waaaann…  Hmm, this is fun!  They tried many times.  Seeing that, people started saying hi and waving their hands to us.
It was a short and small but quite an adventurous trip for the Puppy friends.  It was so exciting and fun!  Let's have another adventurous trip next time!