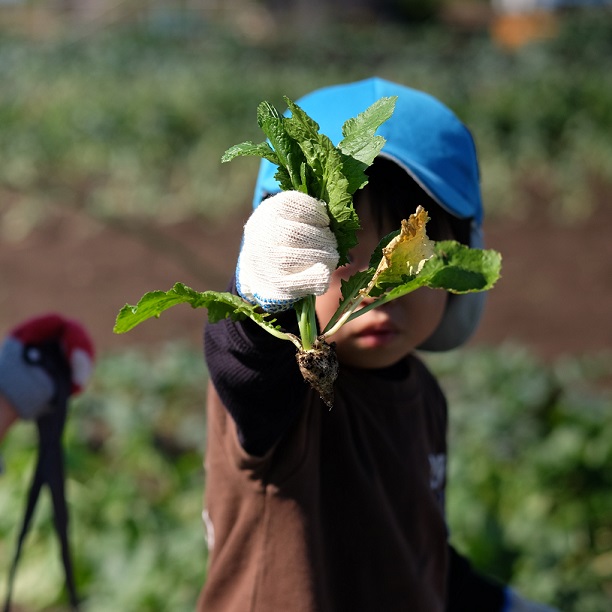 YGK children enjoyed the bounty of autumn season by harvesting vegetables at Bromasa farm the other day.
While still sitting in the bus, most of them have started putting their tiny hands into harvesting gloves. It looked like they are ready for "vegetable tug-of-war."
At the field, Bromasu san and Piroko san welcomed us cheerfully with their green crops ready to be uprooted. Children's eyes sparkled as they saw the beautiful field in front of them. We had a fun quiz that challenged the children to guess what root vegetable it is by just looking at the leaves.

The farmer was so nice to make harvesting fun for the children. Several rows of land contained turnips of different colors. Right across it were radishes in pink and white.
What color of root vegetable will you uproot?
Hmmmm... Get ready, set, go!
And the harvest time began! After a moment of pulling and lifting, little champions went home with bags full of crops.

When the weekend was over, all classes drew their colorful experience on the farm. K1 looked closely at the turnips and radishes. They carefully observed its curves, dents and root hairs. K2 and K3 took time to recall their harvest experience and put them out to paper.

All the children's drawings showed how they perceived everything including the farmer's talk and even the smallest parts of nature that they could not convey yet verbally.

"Sensei, this is the onion with a blanket tucked in for cold weather."

"This is a rabbit trying to steal veggies but a kite is coming to shoo it away."

Looking at the images, we can see clearly how rich this learning experience was for them.
It was another wonderful memory stored in these children's happy tanks.
Check our Facebook and Instrgram for more pictures and more posts!